The Spirited Face of the Underside
By Priyanka N S
For a person commuting by road every day in a metropolitan city, traffic is always the first thing that pops into the picture. The solution? A flyover. And why not! A simple elevated pathway to avoid a busy junction to ensure traffic effectively is divided and hence decongesting the junction seems like the best solution and it is. However, missing out on the smaller stakes is what constitutes the problem.
Similarly, metropolitan cities have an added mode of public transport: The Metro train connecting the city at major areas with a path that usually is elevated or subterranean path is a solution to tackle multiple issues at one go.
The common factor binding these Urban development projects is how easy they are making lives by ensuring organisation in their respective issues. Also, that these projects are massive in scale and take up space vertically, one cannot turn a blind eye to the area that goes unused. Often becoming deserted and overgrown with weeds sans required basic maintenance, turning into a slum or worst, a hub for anti-social elements.
So one way we see this as a wasted space and the other is to see the opportunity available to convert the same into something the public would find comfortable and easy to use. From a simple jogging track to a kids play area to a common learning area, the combinations are vast.
High Line, New York leads by example, an abandoned 'once was' expressway converted into a community park to ensure use of space rather effectively and allow a better coming together of the city to its user.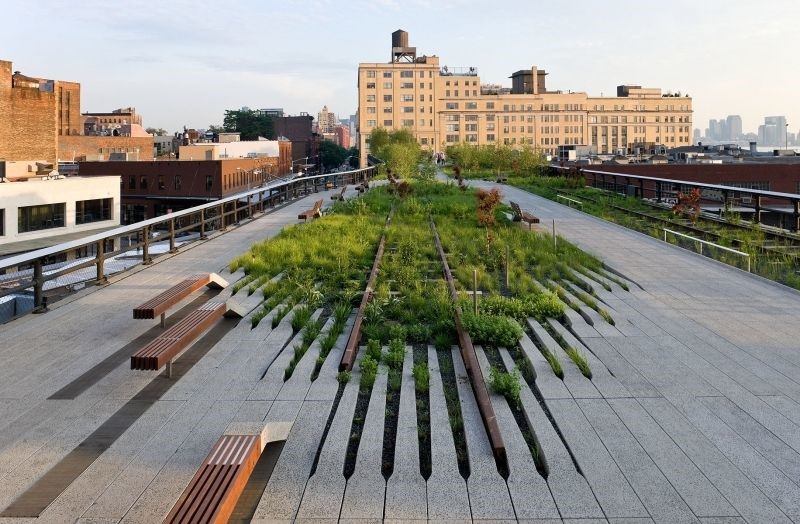 Instead of moving halfway across the globe, one can consider a bounty of local projects in India where Urban design has successfully revived an otherwise dead space. The Rangoli Metro Art Station situated below the Purple line of Bangalore Metro along the erstwhile MG Road Boulevard- a brainchild of Bangalore-based firm Gayathri and Namith Architects and the Bangalore Metro Rail Corporation Ltd, makes an ideal case where people of all age groups come together. Home to multiple activities and many times a comfort spot to simply hang out, have a discussion with the community or sit by a corner working away.
The success these projects have seen is due to an understanding of the city's way of perceiving the spaces based on their requirements and public participation.
One must keep in mind that these spaces are of public usage thus, maintenance is a must to keep the footfall steady. Local civic bodies need to understand the necessity of bringing alive these otherwise empty spaces to ensure the community gets a space for itself and these unused space finds itself being used for everyday activities.
One Matunga, Mumbai is a prime example of how a collective public responsibility revived an unused, dingy space under a flyover into a bustling activity space for jogging and walking.
Thus, to conclude, cities are growing far and wide and at an almost unprecedented rate. Newer and better infrastructure is being added to ensure ease of travel/ movement or living. Thus, as designers and as stakeholders, it is a responsibility to ensure effective use of spaces and to ensure people feel more comfort, equipped and safe to use the same and allow for a better urban layer of multi usage spaces and a varied urban fabric to the city.